Homeschooling Parent
As the mother of a homeschooler I make it a point to find the best educational resources on and offline. One of the resources we use to teach reading, reading comprehension, punctuation and all of the necessary things he needs to learn is with Reading Horizons! They offer programs for struggling readers or emerging readers. I have a struggling reader, but he is emerging slowly! I really like the whole setup for Reading Horizons: online site for him to use, books and learning tools for my son and myself. I received the Discovery Bundle and it offers so much so you can get your child to the level or moving along as they should.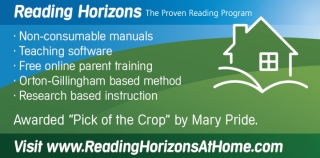 Reading Horizons is helping to fight illiteracy worldwide! Their programs have also help a whole lot of kids become stronger and more fluent readers and this is what I expect with our son.  So far it's been a complete Blessing.  I am still learning myself because everyday is a learning day!
What I really love about programs like Reading Horizons is that they are @Home programs!
My son has Autism and he really struggles to just remember sounds of letters, yet he excels in math.  This program has helped him come up in his reading a whole lot!  I highly recommend it to all parents who either have a struggling or emerging reader!
You can select your area of interest from K-3 Reading Instruction, K-12 Reading Intervention, ESL Reading Instruction and Adult Literacy Instruction.   If you are a teacher they also offer a FREE online workshop!

Give your child/ren the chance to excel in reading and become a strong and successful reader!