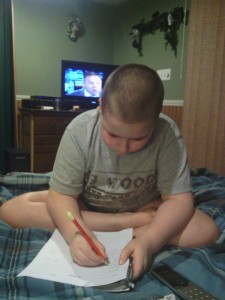 We are working on adding lots of school work that I have created using Google Documents.  You do not need to have Microsoft word or any other program as long as you have a printer you can load these files in a browser and print! This makes things so much easier, because I do not have Microsoft word or other expensive programs.  I do use Gmail.com though, they are a great choice for documents, files and lots of other things.  When using Google Documents through your Gmail.com Account, you can create: presentations, documents, spreadsheets, download these files as .PDF or .DOC or simply print!
Learning is not just about writing, its so much more than that.
Learning is cooking, playing, running, looking at leaves, flowers, spiders and bugs, etc.  You measure ingredients when you bake and cook so that is a great learning process, plus you get the benefit of learning to make something people will love!
As you see Leo is making pizza dough and he is doing a great job, he's mixing the flour with the yeast, water, sugar, salt and oil.  This pizza is just like pizza hut deep dish crust, I kid you not!
Here he is kneading the pizza dough for about 5 or 6 minutes until its nice and sticky!
It comes together pretty fast and it smells so yummy!
Leo is rolling that dough to perfectly fit our pans, he's doing a great job for sure!
I love that he wants to cook and help in the kitchen or just learn all together how to make different foods.
Now they are baking in the oven and almost done!